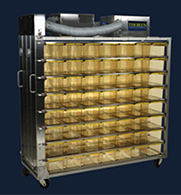 You have selected either one or both of our Mobile Housing or Fixed Housing systems. Each have their own unique benefits.
This system is designed to allow flexibility in size, type of units and placement within your facility. Mobile Cage Systems are constructed for ease of mobility. These racks are equipped with stainless steel casters, grease fittings and optional locking wheels.

• Maximum of 10 shelves high


• 6 to 14 cages per shelf


• Total cage accommodations range from 40 to 140 cages per rack


• Stainless steel construction


• Various methods of supplying and exhausting air to systems
Mobile Rack Configuration Selector Guide
CLICK HERE to view model numbers, dimensions, floor area and number of cages per rack. PDF drawings are also available.
© Copyright 2018 Thoren Caging Systems, Inc.