These systems are either wall mounted or free standing. Fixed racks allow maximum density housing of rodents using a minimum of floor space. Units are available in either single bay, double bay or triple bay construction. The fixed system may utilize shelves of differing lengths to allow the overall length to match your existing room requirements and take full advantage of available space.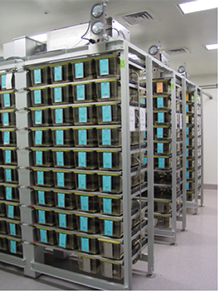 • Maximum of 12 shelves high


• 6 to 14 cages per shelf


• 8 to 12 shelves per rack


• Maximizes density up to 280 cage positions


• Combination of stainless steel and anodized aluminum construction
Fixed Rack Configuration Selector Guide
CLICK HERE to view model numbers, dimensions, floor area and number of cages per rack. PDF drawings are also available.
© Copyright 2018 Thoren Caging Systems, Inc.